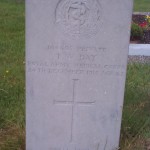 Private Frederick William Day was a native of England and he came to Nenagh in the 1870s, where he established a stationery business. He advertised his business as Fred W. Day, Stationer, Librarian, Druggist, & Fancy Warehouseman, 51 Castle St., Nenagh. His father, George Day, lived in Delgany, Co. Wicklow. Fred was an agent for the London and Lancashire Fire Insurance Company. He was subsequently made a Commissioner for Oaths, taking affidavits for the High Court of Justice, and was well known and respected by the commercial and professional people of Nenagh. He later moved to Peter Street (now Kickham Street), Nenagh. He was married to Matilda, and they had two daughters, the eldest of which, Clara Florence married Philip N. Fogarty, at St. Stephen's Church, Dublin, on 26 February 1913. His family connections were widespread. Fred's brother, Harry, died in Brisbane on 12 October 1892. His sister, Alice, died in Southampton on 7 April 1893. In Nenagh, Fred established a lending library, with different membership rates applicable,
depending on the amount of books which were borrowed. In 1905 he was secretary of the Nenagh Rate Payers Association. He was a ticket agent for operas and concerts, which were held in the Town Hall. Socially, he was a member of the Ormond Club. In 1883 he was present at a meeting to establish a cricket club of 'a respectable character' in Nenagh. He played cricket, on an irregular basis, with the Nenagh Institute CC. In his business he sold cricket bats, with prices ranging from one shilling to twelve shillings and six pence. He sold wickets for the same prices, and cricket balls ranged from a relatively cheap six pence up to seven shillings and six pence. He also attended a meeting in O'Meara's Hotel, Nenagh, in September 1906, to revive the Ormond Rugby Football Club.
When hostilities broke out in Europe, Fred was determined to join the 16th Company
Royal Army Medical Corps, as a dispenser. He remained in Ireland, working in Cork and Waterford. He took ill, while living in Waterford, and he passed way on 24 December 1916, aged 62 years. His remains were returned to Nenagh by rail, where his coffin was draped in the Union Jack. A short service followed at St. Mary's Church, and as it was the Christmas season it was impossible to get a military band and firing party together. However, Captain Hickie and Major Fitzgerald ensured that every available soldier was present to ensure that the last respects were paid to Fred Day in a fitting manner. The cortege passed through the town, to the Old Graveyard, on Barrack Street, where he was interred after Canon Thomas had recited the final prayers.